Michael Murray

FROM
Tallow, Co. Waterford, Ireland
TO
Maitland, New South Wales, Australia
---
ichael Murray
Michael Murray was my great great grandfather.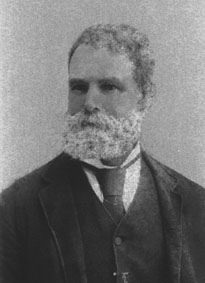 Michael Murray, born 16th December 1838, Tallow, Co. Waterford, died 2nd February 1926, Petersham, New South Wales, Australia
My research into this branch of my family had hit the proverbial brick wall - I had all the details of Michael's descendants but I was stumped on his ancestors. I had Michael's marriage and death certificates which gave :-
an approximate year of birth
place of birth as Co. Waterford, Ireland
no names of parents
It was not until I found Michael's obituary in the Maitland Mercury that I started to make more progress :-
Death of Mr. Michael Murray.

News has been received from Sydney of the death yesterday of, Mr. Michael Murray, senior, of West Maitland. The deceased was a resident of the town for nearly 70 years, but about three or four years ago went to reside in Sydney. A fortnight ago he was operated on in the Lewisham Hospital, where he died. A native of Tallow, Waterford, Ireland, the late Mr. Murray came to Maitland when a young man, and commenced a butchering business on the site of the present shop in High-street, now carried on by his son.

He was prominent in all walks of life. Politically he was an ardent supporter of the late John Gillies, and played a big part in election campaigns. In all public matters he was represented, but it was in connection with his church that perhaps he took the keenest interest. In all its social functions, departures or welcome to prelates and laymen, he was an outstanding figure, and the annual St. Patrick's Day celebration found in him an ardent worker. His wife, one daughter and two sons predeceased him. The surviving members of the family are Messrs. Michael Murray (West Maitland) and Joseph Murray (Burwood). Brothers Clements and Eusebius, of the Marist Brothers' Order, Sister Mary Cecilia (Convent of Mercy, Singleton), and Sister Gonzaga (New Zealand). The funeral will leave St. John's Cathedral, West Maitland, tomorrow morning, at ten o'clock, for the Campbell's Hill cemetery.
The obituary had narrowed the search to Tallow in County Waterford. My next step was a careful search of the Griffith's Valuation on microfiche, where I found a Thomas Murray who could be Michael's father. The next major breakthrough was in the parish registers in Tallow where Michael's baptism and those of his siblings were found.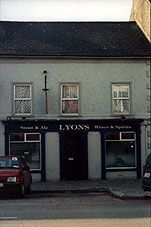 The house and hotel where Michael Murray and his siblings were born : Convent Street (formerly Tallowbridge Street), Tallow, Co. Waterford, Ireland.
Michael left Tallow some time between 1856 and 1860, and made the journey to Australia on the other side of the world. His brothers Thomas and John may have made the journey with him - records of their death in Ireland haven't yet been found, so they may have come to Australia (there's plenty of research still to be done!). Two of Michael's spinster sisters continued to run the hotel - in fact the census still showed them there in 1911.
Of course, it is possible that Thomas and John stayed in Ireland and married, and somewhere in Ireland I may have some cousins waiting to be found!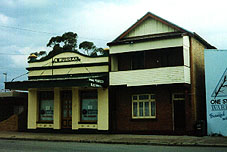 Michael Murray's butcher shop (left) and the home owned by the Murray family (right) in High Street, Maitland, New South Wales, Australia.

Below is my Murray family tree.
Thomas MURRAY (1812 - 24 Sep 1867) & Brigid POWER (1812 - 18 Aug 1894) my ggg-grandparents
Michael MURRAY (16 Dec 1838 - 2 Feb 1926) & Harriet Marianne (Teresa) DENNIS (25 May 1839 - 21 Oct 1910) my gg-grandparents
Thomas Augustus MURRAY (30 Sep 1861 - 9 Jun 1879)
Bridget (Mother M. Regis) MURRAY (11 Jan 1864 - 30 Apr 1917)
Michael MURRAY (4 Oct 1865 - 3 Oct 1945) & Bridget (Bridgid) Mary RYAN (? 1868 - 19 Nov 1937)
"Frank" Michael F MURRAY (1892 - )
"Molly" Mary G MURRAY (1899 - )
"Clem" Clement S (Jack) MURRAY (1906 - )
John (Br. Clement) MURRAY (5 Aug 1867 - 21 Sep 1957)
Harriet (Sr. M Cecilia) MURRAY (21 Jun 1869 - 25 Apr 1951)
Stephen James MURRAY (10 Sep 1871 - 16 Oct 1905) & Ellen MURRAY (28 Dec 1868 - 29 Jan 1953) my g-grandparents
John Thomas MURRAY (10 Jan 1895 - 30 Jul 1937) & Alice Louie "Lou" FILMER (2 Apr 1895 - 24 Jul 1967)
Stephen M MURRAY (1897 - 1897)
Male MURRAY
Ellen Mary MURRAY (6 May 1901 - 6 Mar 1983) & Harry Thomas NIALL (24 Dec 1892 - 5 Feb 1974) my grandparents
Mary (Sr. M Gertrude) MURRAY (11 Aug 1873 - 2 Jan 1898)
Joseph Charles MURRAY (9 Aug 1875 - 20 Sep 1945) & Catherine DRIES
William J MURRAY (24 Aug 1896 - )
Cecilia (Sr. M. Alberta) MURRAY (16 Aug 1900 - 26 Apr 1951)
Winifred Teresa MURRAY (24 Apr 1902 - ) & Frank WOODS
Thomas Clement MURRAY (25 Jan 1904 - 2 Apr 1978) & Kath ROONEY
Gertrude Mary MURRAY (18 Jan 1906 - ) & John TOOHEY
John C Joseph MURRAY (25 Dec 1907 - )
Joseph Gerard MURRAY (12 Feb 1910 - 17 Apr 1920)
Harriet Mary "Ettie" MURRAY (2 May 1913 - 18 Aug 1919)
Catherine Mary "Ina" MURRAY (24 Jul 1915 - 19 May 1916)
Therese Dominica MURRAY (6 Aug 1917 - ) & Hector Nicholas "Tony" LOCHRIN
Mary Anselm MURRAY (2 Jan 1920 - ) & ? SYMONS
Veronica Anne MURRAY (18 Dec 1921 - ) & Maurice SYMONS
Winifred (Sr. M Gonzaga) MURRAY "Minnie" (1878 - 6 Feb 1968)
Francis Augustine (Br. Eusebius) MURRAY (1880 - 8 Apr 1971)
Thomas MURRAY (19 Feb 1840 - died soon after birth)
Thomas MURRAY (10 Mar 1841 - 28 Aug 1926?)
John MURRAY (30 Apr 1842 - )
Mary MURRAY (20 Apr 1845 - died soon after birth)
Bridget MURRAY (1847 - 24 May 1917)
Mary MURRAY (23 Mar 1849 - died after 1917)
Charles MURRAY (10 Apr 1852 - 16 Dec 1874)
Slan go foill
(Good bye for a while)
---
Created by : Susie Zada
© 1996 Susie Zada, Ocean Grove, Victoria, Australia
Last revised : March 15, 2007.
Email : susie@zades.com.au